"NeuroGum is now a thing." - TIME Magazine
September 29, 2015
It's been an unbelievable two weeks at the NeuroGum Headquarters.
Beyond reaching our goal in three days, we have been featured in great write-ups by Time Magazine, Geektime, and Food and Wine! We've also been spotted on a few television spots, which we can't wait to see ourselves.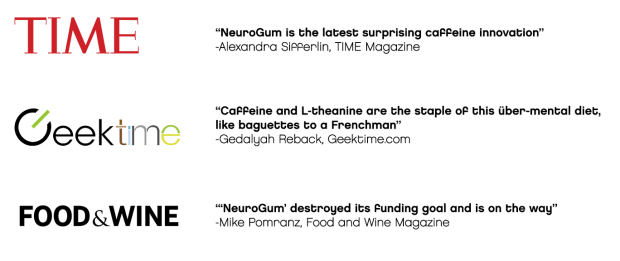 And now that we reached $15,000, we'll be delving into phase one of our stretch goals! Using L-theanine as the primary ingredient along with mood boosting D-vitamins and B-vitamins, we will now begin development on Minty Zen - NeuroGum's very own stress relieving gum.
Being the primary psychoactive compound in green tea, L-theanine may help relieve stress by inducing a relaxing effect without drowsiness and may also possess immunologic attributes. With 100mg in Minty Zen NeuroGum, we want to help you get ready for whatever is thrown your way if you've already had your healthy dose of caffeine in the morning.
Chew on!